Healing by Design / The Laboratory for Healing Encounters is the Ph.D. research and project by Silvia Neretti (in progress).
In 2011, Paolo Ulian was invited to give a lecture and present his work to the students of the Design and Art Faculty, at the Free University of Bolzano (Italy). I was back then still trying to understand which type of designer I was. I decided to take part at Ulian's presentation as guest, and I discovered one of his project called
Osservare Comportamenti
(Observing Behaviors).
I fell deeply in love with the idea of designing for one's behavior: changing oneself, improving one's behavior by design. This field is now called Design for Behavior Change (Niedderer et al., 2018). I started developing my practice toward that direction and I have never stopped until then.
For my Bachelor's thesis I designed an instructions manual to design twenty-four objects that, when used, help the user to overcome twenty-four bad habits, but with a twist: these artifacts have been designed by following the double bind concept (Watzlawick, Beavin and Jackson, 1971).
For my Master's thesis, I decided to design a speculative service to design happiness in your everyday life as a pragmatic action, something you can do about. The designer/therapist/saboteur aims to redesign your context in order to allow you to change your habits, practices and your thoughts, move on and experience happiness as a concrete way of life.
I then applied for a Ph.D. in Design to research about Eating Disorders and design. This allowed me to understand the mental health and mental disorder discourse and to situate design as a tool that allows for relational healing (this work is still in progress as I am writing).
It all comes from one simple thought: we are the product of our environment and our environment is designed. Our socio-material surroundings has been designed and constantly mediates the experience of our everyday life. Design, then could and should be taken into consideration and contribute to the understanding of the healing process from mental disorders.
The Laboratory for Healing Encounters
A research through Ontological Design and Fictional Design to understand what does it mean to design for healing, in the context of Eating Disorders. The Laboratory for Healing Encounters is a space focuses on materializing pop-up experiences to instill imagination and exploration of a new sense of self outside one's Eating Disorder.
This is the starting point of what I wish to be a life-long research process into developing the practice of designing for healing, in the context of mental health and Eating Disorders.
︎ Past work / Portfolio:

1. The Unhappiness Repairer
Master's Thesis project, 2014 (Social Design Master, Design Academy Eindhoven)
The Unhappiness Repairer is a speculative service that answers the question: how can we design happiness and embed it in our eveyday life?
This research focused on the relation between design, happiness (as knowing one's own nature, needs and desires) and the surrounding context influences. This service aims to detach people from the influences of context perceived as adverse, by using behavioural artefacts that force users in performing different actions in the context, while breaking their repetitive thinking pattern related to it. The artefacts help the users to understand the nature of the problem they were experiencing in the context, to develop personal strength and to stimulate alternative solutions. Every new artefact is a sabotage or modification of pre existing objects in the context (as silent viewers of our everyday life).
The designer/saboteur comes to visit you in a context of your choice, that needs emotional restructuting, implement a rapid ethnography by following you in your space for a few hours and then develop rapid prototyped artifacts that allow you to modify your behavior in that context of your choice.
Designing happiness means to help people to develop their ability to detach from external influences and to focus on personal needs, through the use of designed artefacts that modify the practices, interactions, perceptions and thinking patterns that happen in a context.
I define myself as a designer-researcher and practitioner and my role and the practice I created is now named the
Unhappiness Repairer
. My first client/participant was Ingrid. We analized together the delicate situation in her home, sabotaged her actual place, in order to allow her to think about the next step in her life. (Watch the video!)
Exibithions:
The Unhappiness Repairer has been presented during the DDW 2014 (Graduation Show) and the Milano Design Week, 2015 (Atelier Clerici, 5).
Nominee:
Gijs Bakker Award (2014)
Keep an Eye on Talent (2014)
Core77 Design Awards (2015
) Runner Up for the categories 'Speculative Concepts'; notable for the 'Service Design' category and Community Choice Award for 'Speculative Concepts'.
Wave of Tomorrow (2015)
These are some reviews about the Unhappiness Repairer project:
Can You Design Happiness? by Shaunacy Ferro
The Unhappiness Repairer: a PopUp Psychotherapy Office
by Dijana Vukojevic;
The Unhappiness Repairer Experimenta, by Cristóbal Páez.

Redefining Design, Design Beats, by Jan Boelen.

Progettare la felicità ChomeTemporary by Silvia Argentiero.
Publications:
Publication "Open Design for the Future" for the program Designers in Residence, 2015 Kortrijk.
2. The Perfect Imperfect's Manual



Bachelor's Thesis Project, 2012 (Industrial Design, Free University of Bolzano/Bozen Italy).

The Perfect Imperfect's Manual
presents an explorative design approach to behavior change.
It is a paradoxical self-help and DIY guide which will help readers designing away their bad habits. It provides instructions to build twenty-four objects which will make the reader perform, act out and overcome twenty-four different bad habits, using the therapeutic potential of the paradox combined with a relational design approach.
The Perfect Imperfect's Manua
l is a new, explorative and experimental design approach to changing one's behavior. It can be described as a self-help book in disguise, because it actually provides instructions to build objects that will make the readers perform the same bad habits they are trying to escape. The Manual's narrative will trick the readers into a paradox; by agreeing and following the instructions and the experiments that the Manual provides, the readers will start their healing journey by misbehaving.
The Manual warns the readers that they will be completely involved in a new material approach to personal change, only to realize that they will be healed by agreeing to remain exactly who they are. Will they remain
the same? The Manual's concept exists as an alternative to self-help approaches which usually offer many useful suggestions toward change, but leave the reader completely alone in the process of taking pragmatic actions toward initiating the change process. The Manual's concept stems from new design approaches to health such as Design for Behavior Change, Design for Health and Relational Design, where the design's material imagination has been employed to help people get to newer, alternative or improved version of the self by doing, while scripting newer narratives of the self. The readers will, therefore, encounter instructions to build twenty-four different specifically designed objects, related to twenty-four bad habits. The Manual is in fact a DIY one. After opening the manual and getting through the Introduction where rules and agreements have been established, readers have the option to face compulsive bad habits, relational badhabits or carelessness. Each section will tackle eight (c.ca) habits, each one in a different chapter, structured in the following way: a playful introductory description of the habit will set the tone for the paradox, followed by infographics of simple materials to gather in preparation for illustrated instructions on how to build the objects that will supposedly help the readers to overcome the bad habit. Once the readers will try to use the tool, they will find themselves bound in a paradox. The paradoxical double bind, which is currently the systemic approach's staple in psychotherapy, is a concept that has been developed by psychologists and researchers of the Palo Alto school in 1970s. The Manual's paradoxical objects will force the reader to perform the bad habits they are escaping from, so they will be faced by two choices: they either have to perform the bad habit – but in a therapeutically controlled way, because it is the Manual that asked them – or to not perform the bad habit, in which case they will have broken the bad habit cycle. In either case, the reader will learn they can handle their bad habit. The reader will be changed regardless, since they will acquire an overarching perspective on their habits. The Manual engages two kinds of readership. The playful language used throughout the book serves to invite the readers who intend to use the manual in a therapeutic way, while lightening the topics of personal change. The Manual can also be seen as a reflection on design today, on the artifacts' roles in our everyday lives and new material ways to handle one's healing path and wellbeing.
Awards:
ADI Design Index; Targa Giovani (2012)
4. Invisible Dynamics of Communication
Invisible Dynamics of Communication, 2016

Invisible Dynamics of Communication aims to explore how the space influences our behavior and the relationship with other people, directly and indirectly.
This website contain the starting point of an archive that aims to collect, observe and analyse many different or similar dynamics that happens in our everyday life spaces and places.


5. The Exchangeable Identity Shop
Photo credits: Heini Lethinen, 2014
Project developed in 2013, at the Design Academy Eindhoven.
The Exchangeable Identity Shop is a speculative shop/service that answers to the question "How can I forget about myself for one day?"
How do you know how many personalities are inside of you or how many life you could live if you never leave your comfort zone? This shop gives you the possibility to escape from your repetitive life for a while and the possibility to live other true lived experiences. You can learn how to be someone else for a day, by exchanging your idendity with another one, through identities-boxes. The box you can choose from, contains someone's life, personality or trait transalted into simple exercises included in a booklet, one object that translate others identity in an experience to do and a disposable photo camera to document journey outside your comfort zone. This exercise allows you to have a different perspective of yourself and other people's life. This represents my personal utopia.
6. Emotional Cupboard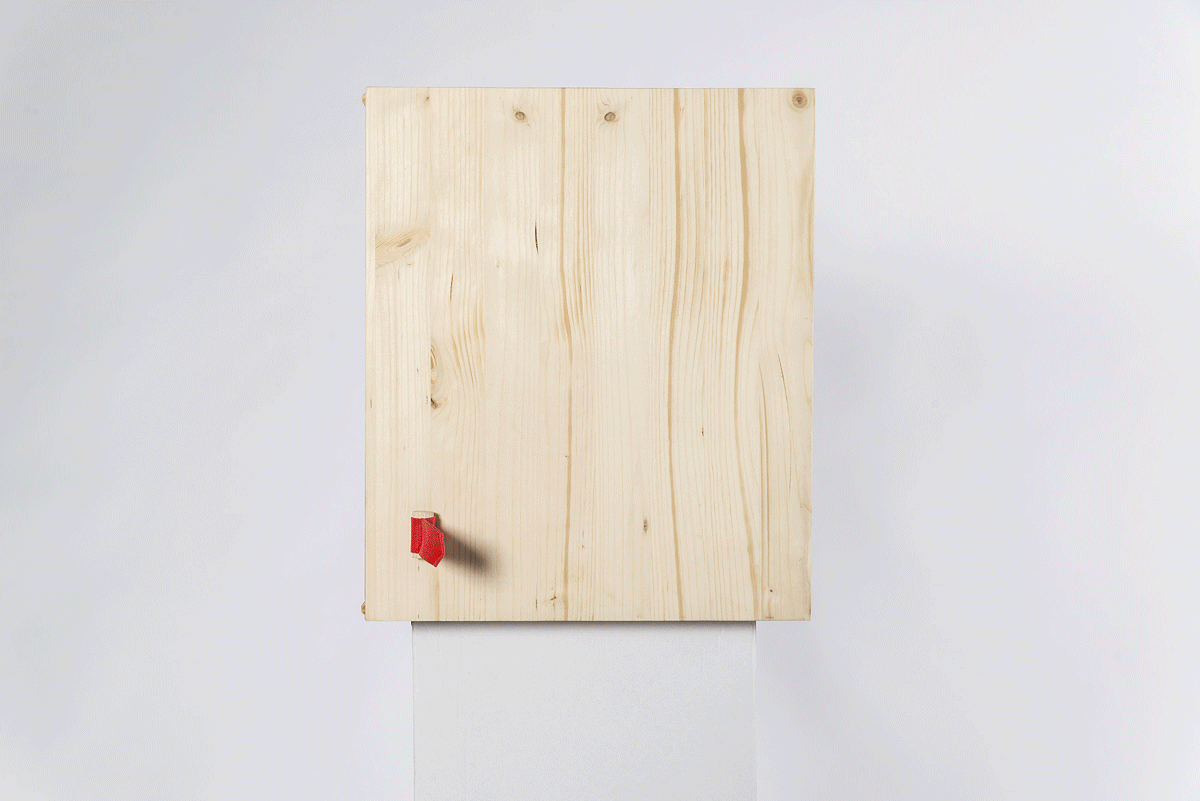 The Emotional Cupboard is a project developed at
DesignRegio
's residency (2015).
This cupboard door blocks if you try to open it quickly. This system forces you to think twice and pace your action to open its door. Is this enough to make you focus on your unconscious emotional eating pattern? This prototype allowed me to think about the kitchen as a possible place to elaborate emotions. Kitchen = emotional lab.
In Niedderer, K., In Clune, S., & In Ludden, G. (2018). Design for behaviour change: Theories and practices of designing for change. London: Routledge

Watzlawick, P., Beavin, J. H., & Jackson, D. D. (1971). Pragmatica Della Comunicazione Umana. Astrolabio, Roma, 35.